What is a carrier oil? As you learn how to care for your hair, you'll come across new terms that make you do a double take. "Carrier oil" is one of those terms.
If you want to learn what carrier oils are and how they can bolster your healthy hair care regimen, this article is for you. In it, we'll cover exactly that.
What Is a Carrier Oil?
Carrier oils are natural plant-based oils used as diluents for essential oils. They are also effective moisturizers and soothers for skin and hair. There's more to it, but this is a good starting point.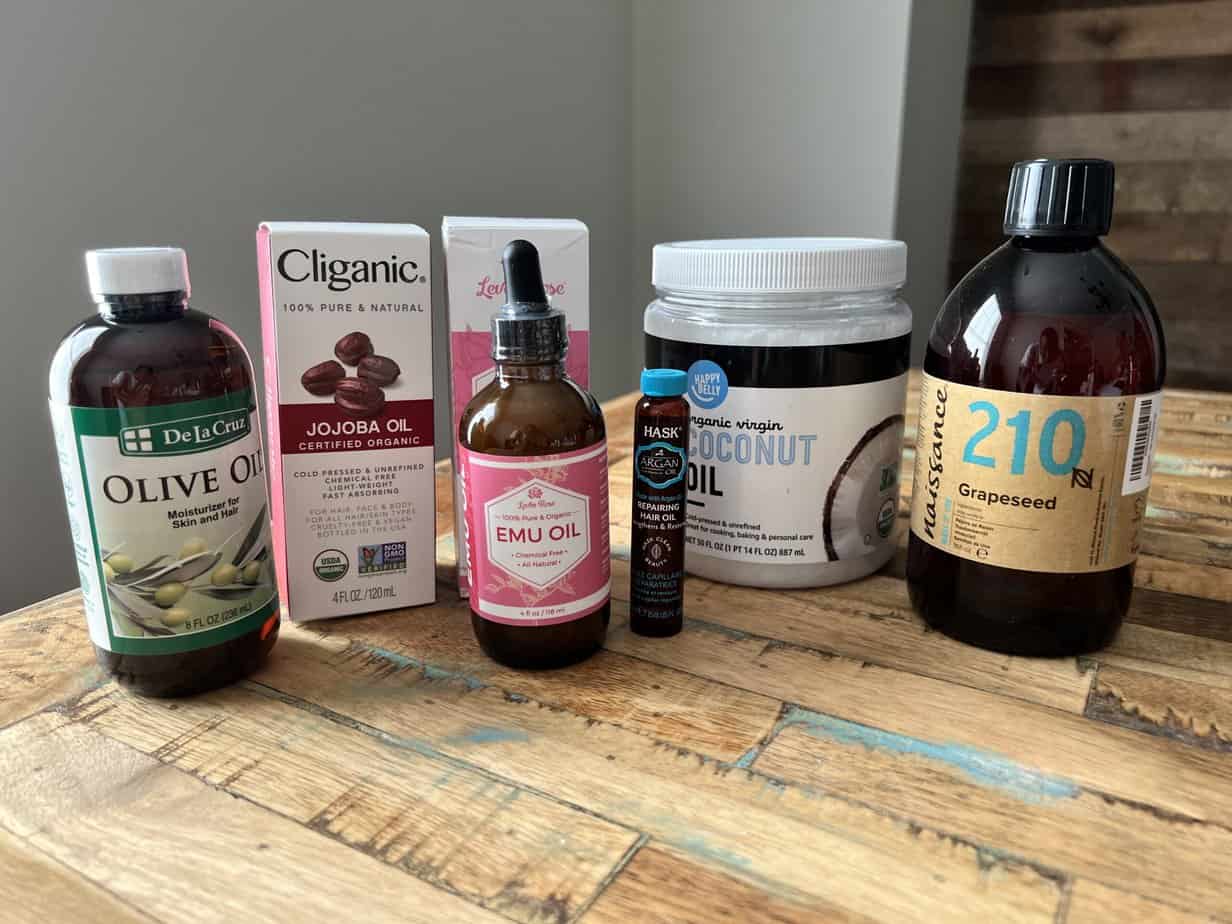 Why We Need Carrier Oils to Dilute Essential Oils
Highly concentrated essential oils, like lavender and peppermint, can irritate the skin when applied directly. They can also dry out your hair, making it brittle and difficult to care for and style. The only way to use them safely is to combine them with a carrier oil of your choice.
Carrier Oils Nourish Hair All by Themselves
Carrier oils are for more than diluting essential oils. They nourish the hair, providing moisture and restoring softness. The benefits may be extensive, depending on your chosen oil. We'll cover that shortly.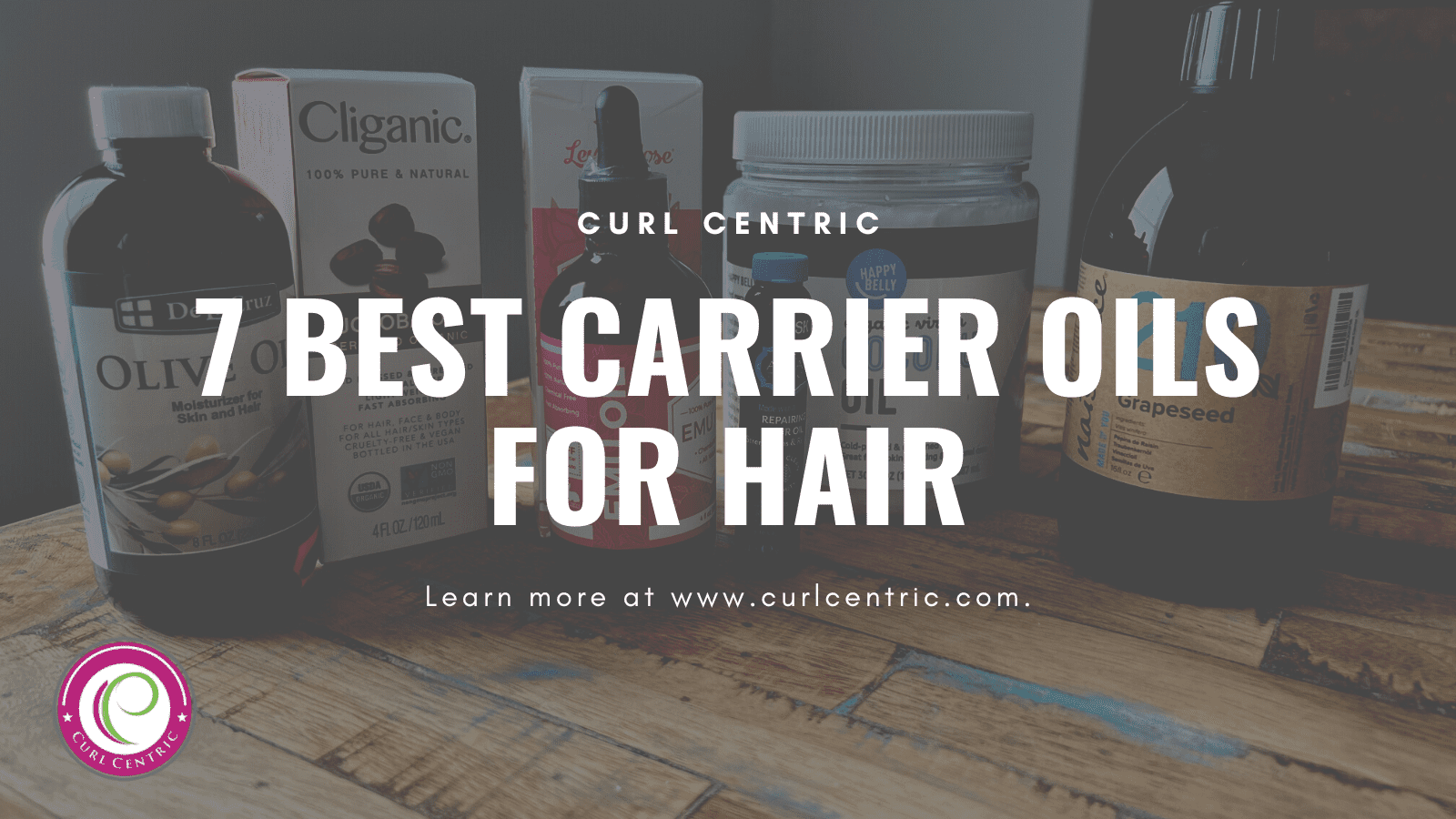 7 Best Carrier Oils for Hair
There are many carrier oils, some of which you may never have heard of. In this section, we'll look at 7 of the top carrier oils for hair. We'll cover each oil's benefits, physical characteristics, shelf life, and the hair type(s) they work best for. Let's get started!
Jojoba Oil
Jojoba oil garners considerable attention for its widespread utility and various benefits. The carrier oil comes from jojoba plant seeds native to Mexico, Arizona, and California. As far as its appearance and odor, it looks golden and has a nutty odor.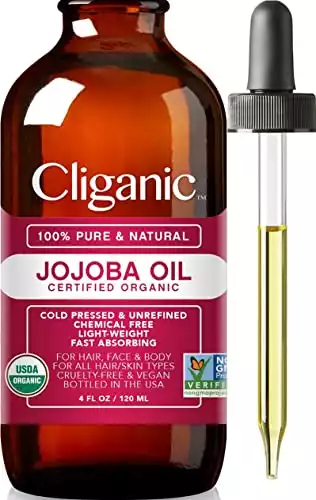 Cliganic 100% Pure & Natural Jojoba Oil – Certified Organic
Cliganic Organic Jojoba Oil is 100% pure, cold-pressed, unrefined, and all-natural, making it the ultimate treatment for dry skin and hair. Often referred to as nature's moisturizer for its ability to mimic the skin's sebum, this virgin jojoba oil contains vitamins and minerals essential for healthy-looking skin and hair, including vitamin E and B-complex.
Curl Centric may receive compensation if you make a purchase using this link, at no additional cost to you.
The shelf life of jojoba oil is about two years.
Jojoba oil's benefits are truly game-changing for hair. But the main benefit is enhanced hair moisture. If you struggle with chronic hair dryness, this carrier oil can remedy dry hair. It contains essential fatty acids and wax esters, and vitamins that promote hair and scalp health.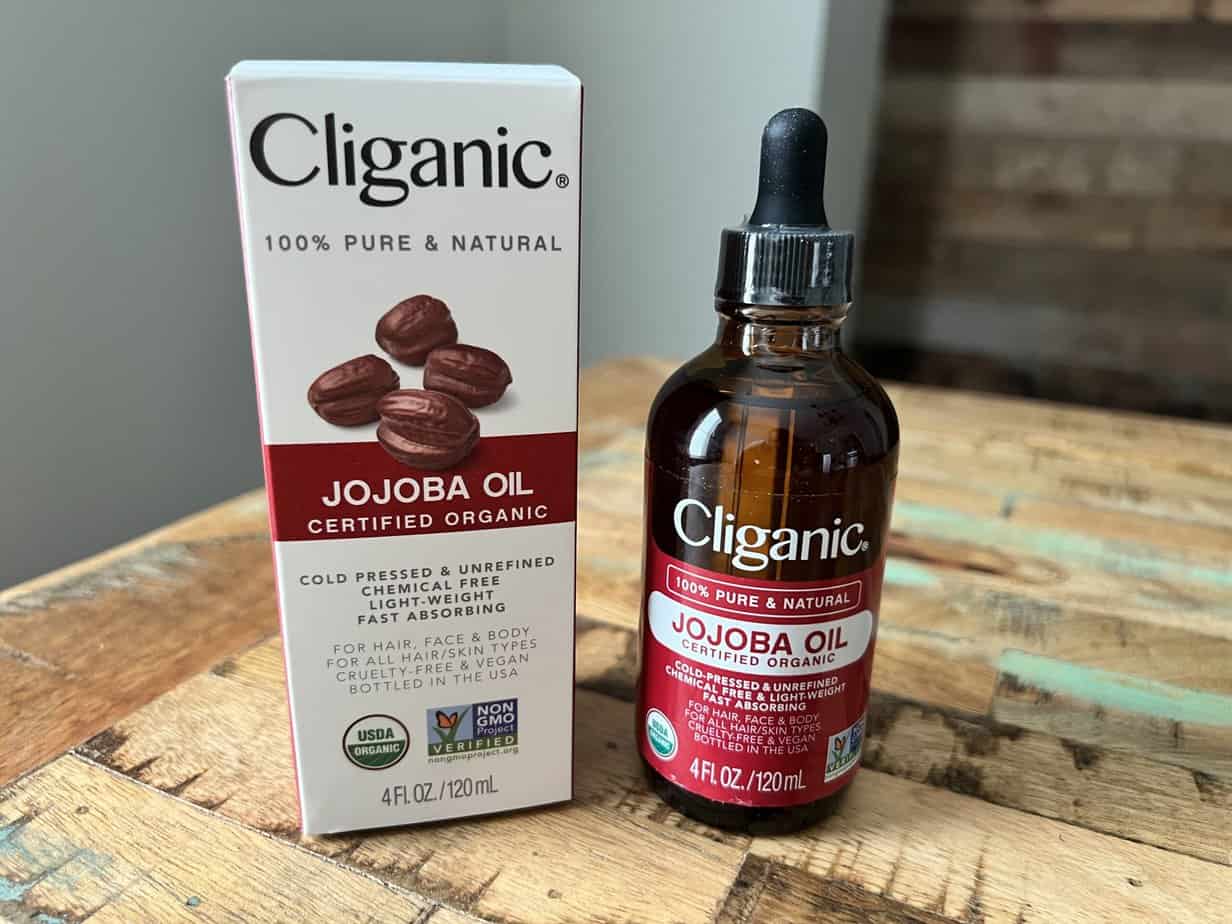 The oil also serves a protective function, coating your hair and sealing it to prevent moisture loss and mechanical damage from regular hair care and styling. It's also known to help with dandruff.
Here's a little-known fact: jojoba oil is more of a wax than an oil. The wax esters and fatty acids make the carrier oil act like wax. And that means that it can be too much for some hair types.
If you have fine or thin hair, jojoba oil could weigh your hair down and make styling difficult. Those with thicker and curlier hair are less likely to experience this negative effect. So, if your hair is either type 3 or type 4, then jojoba oil just might be your holy grail hair oil!
Argan Oil
Argan oil is derived from argan tree kernels and has been used for hundreds of years in skin and hair care. It is known as "liquid gold" because of its many benefits and high price tag. Like jojoba oil, argan oil lasts for two years after processing.

Hask Argan Oil Repairing Shine Hair Oil
This Hask argan oil is a repairing hair oil that strengthens and restores your hair strands. For a silky, smooth finish, apply a coin-sized amount evenly throughout wet or dry hair, avoiding the root area.
Curl Centric may receive compensation if you make a purchase using this link, at no additional cost to you.
Argan oil is highly valued because it contains fatty acids, antioxidants, and vitamins. These natural components protect and nourish the hair, making it healthier, better moisturized, and more resilient overall.
The fatty acids in argan oil are beneficial for hair because they contain stearic and palmitic acids. These acids deeply penetrate the hair to moisturize it without weighing it down.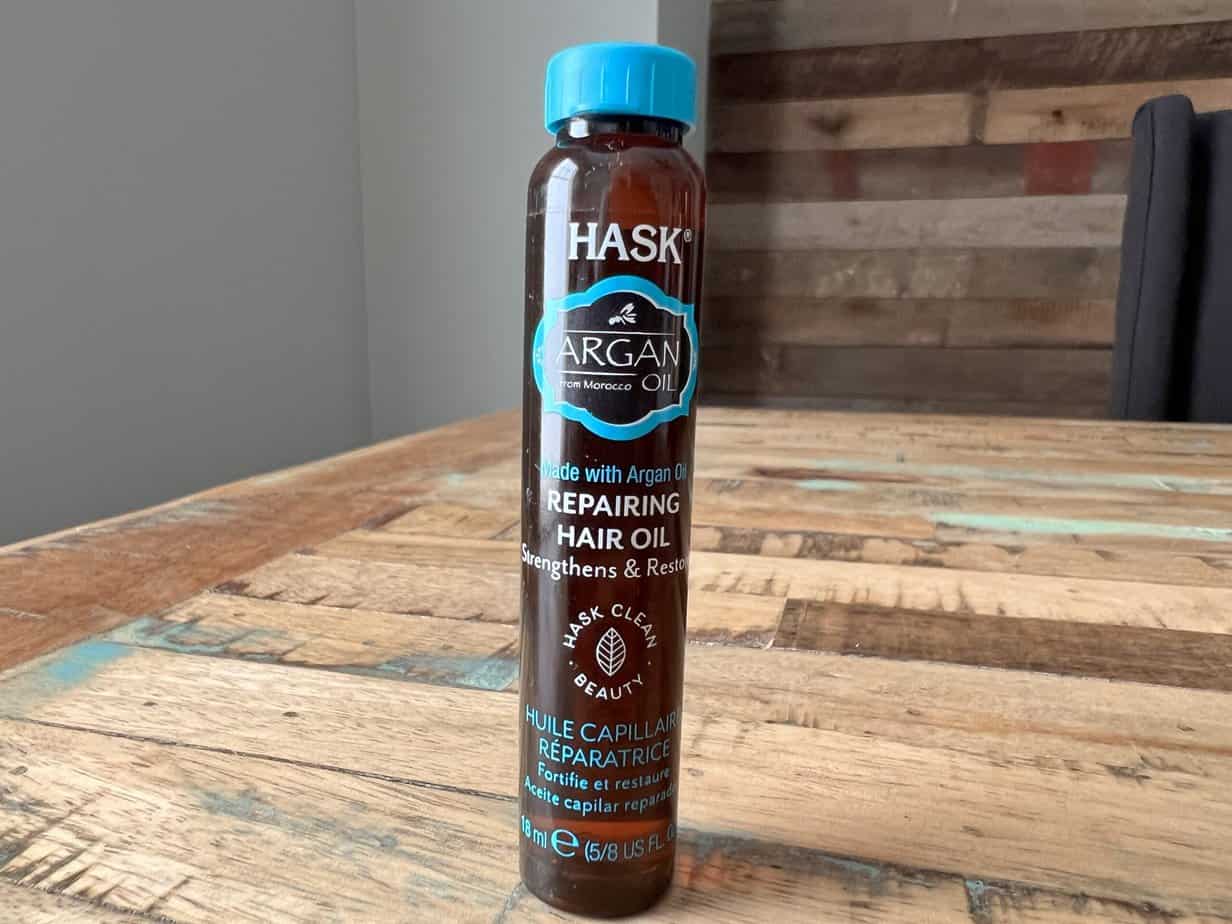 The antioxidants in the carrier oil also protect hair from environmental damage and prevent premature greying. Lastly, vitamins E, A, and C condition the hair and promote healthier growth.
Wondering whether you're a suitable candidate for this carrier oil? Argan oil suits all hair types, including colored or chemically-treated hair. If you want to nourish and protect your locks from damage and stave off dryness, argan oil could be a good choice.
Coconut Oil
Coconut oil is a natural remedy people have used for centuries for health and beauty. It is extracted from mature coconut meat – some oil is pressed from fresh coconuts, and some is extracted from dried coconut meat.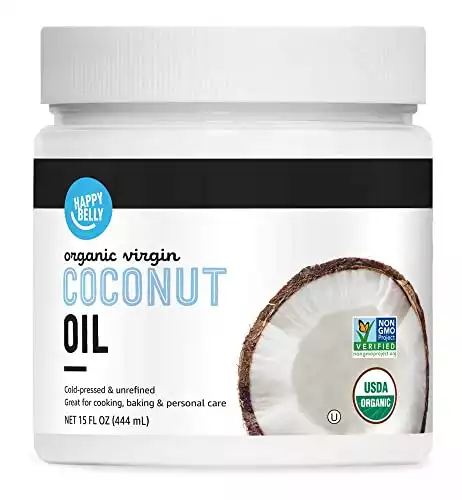 Happy Belly Organic Virgin Coconut Oil
This Happy Belly organic virgin coconut oil is cold-pressed and unrefined. It's great for cooking, baking, and personal care.
Curl Centric may receive compensation if you make a purchase using this link, at no additional cost to you.
The carrier oil looks white in its solid state and clear in its liquid state. Contrary to popular belief, it does not smell coconutty. It has a shelf life of 18 to 36 months.
Now, onto the benefits of this amazing oil: Coconut oil is rich in lauric acid, which makes it an effective hair moisturizer. Its fatty acids can help add shine, reduce frizz, and moisturize dry hair. It also helps to protect the hair from protein loss.
And because it has a high smoke point, you can use it as a heat protectant.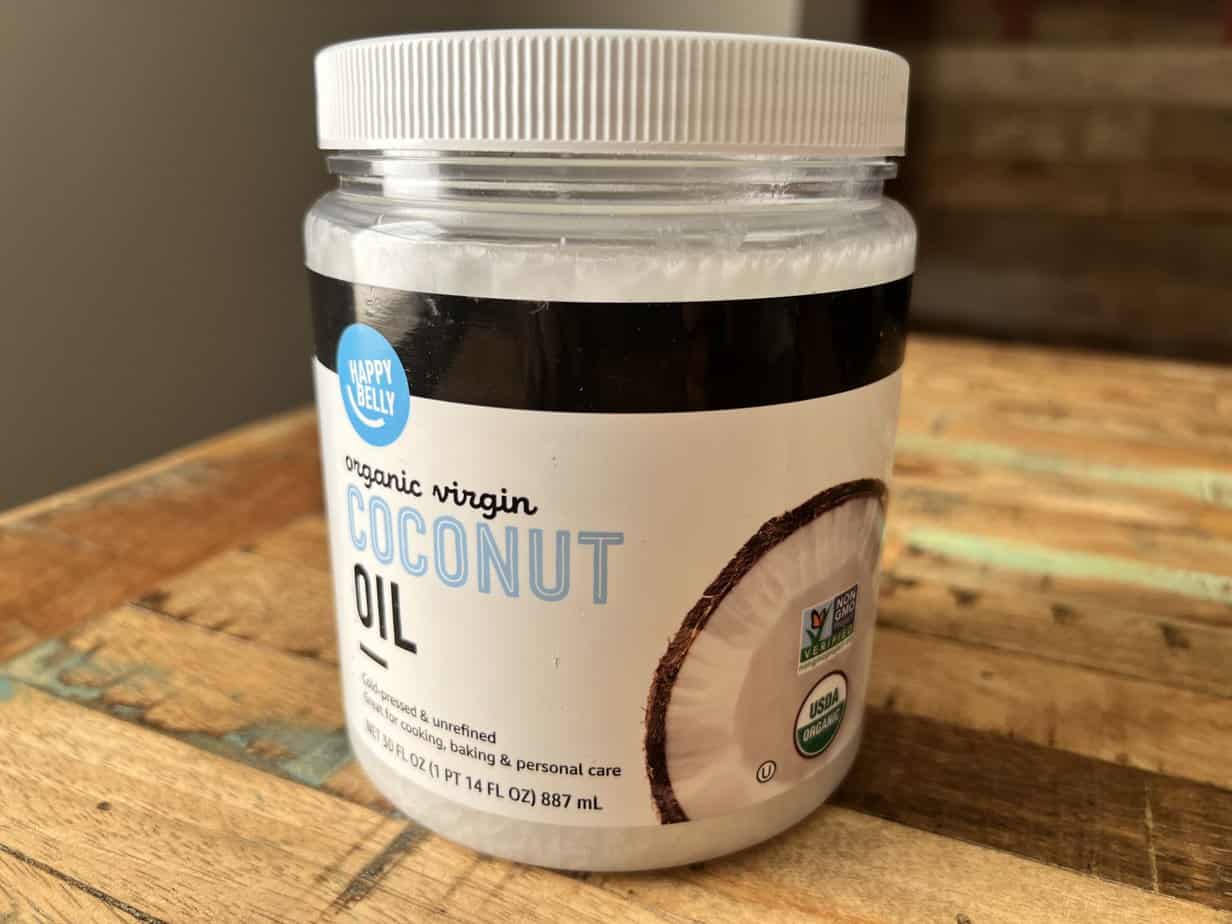 Coconut oil is another oil that works beautifully for just about everyone, regardless of hair type. However, some will find that the carrier oil is too heavy for their hair, so it's wise to do a patch test before applying it all over.
Be mindful of how your hair reacts to the oil.
Those with damaged hair will find coconut oil incredibly helpful in nourishing and repairing their hair. The carrier oil is also ideal for those with curly, wavy, and coily hair since these hair types can be prone to dryness, brittleness, and breakage.
Grapeseed Oil
As you might imagine, grapeseed oil is what you get when processing grapeseeds. For a long time, winemakers disposed of grapeseed oil, treating it as a waste product. But now, the oil is used for a wide variety of things, from enhancing culinary cuisine to promoting healthy hair growth.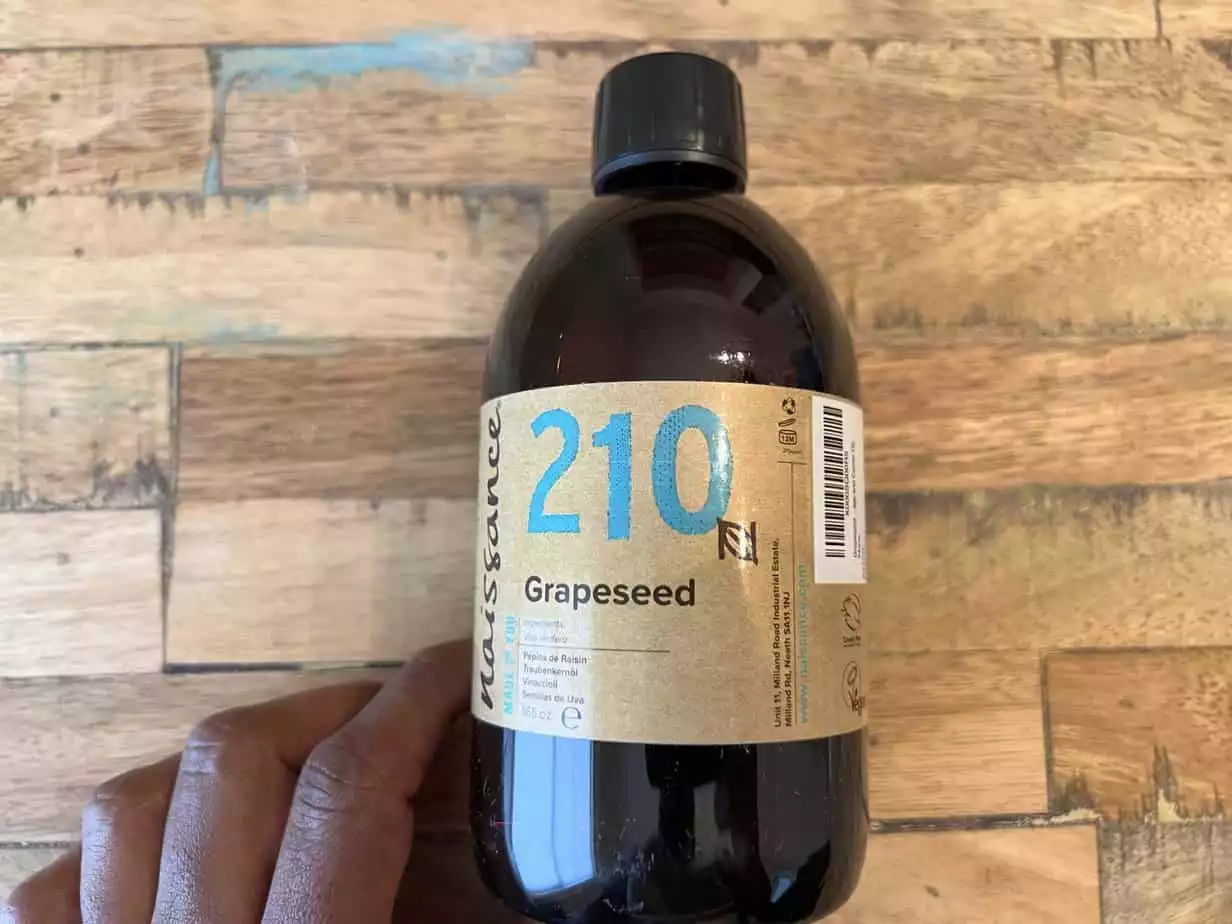 naissance 210 Grapeseed Oil
Kira recently tried using 100% natural, refined grapeseed oil on her hair, and she was impressed with its hypoallergenic properties, making it suitable for her sensitive skin also. This vegan-friendly oil left her hair feeling soft and smooth and became an effective moisturizer quickly absorbed by her skin.
Curl Centric may receive compensation if you make a purchase using this link, at no additional cost to you.
The oil has a shelf life of 1 year from its processing date.
What makes grapeseed oil great is the fact that it contains fatty acids, vitamins, and other nutrients that help hair thrive. The linoleic acid in the carrier oil seals existing moisture into the hair.
These same acids smooth your strands in seconds, making it easier to achieve your favorite hairstyles. This is an especially helpful benefit for those with textured natural hair.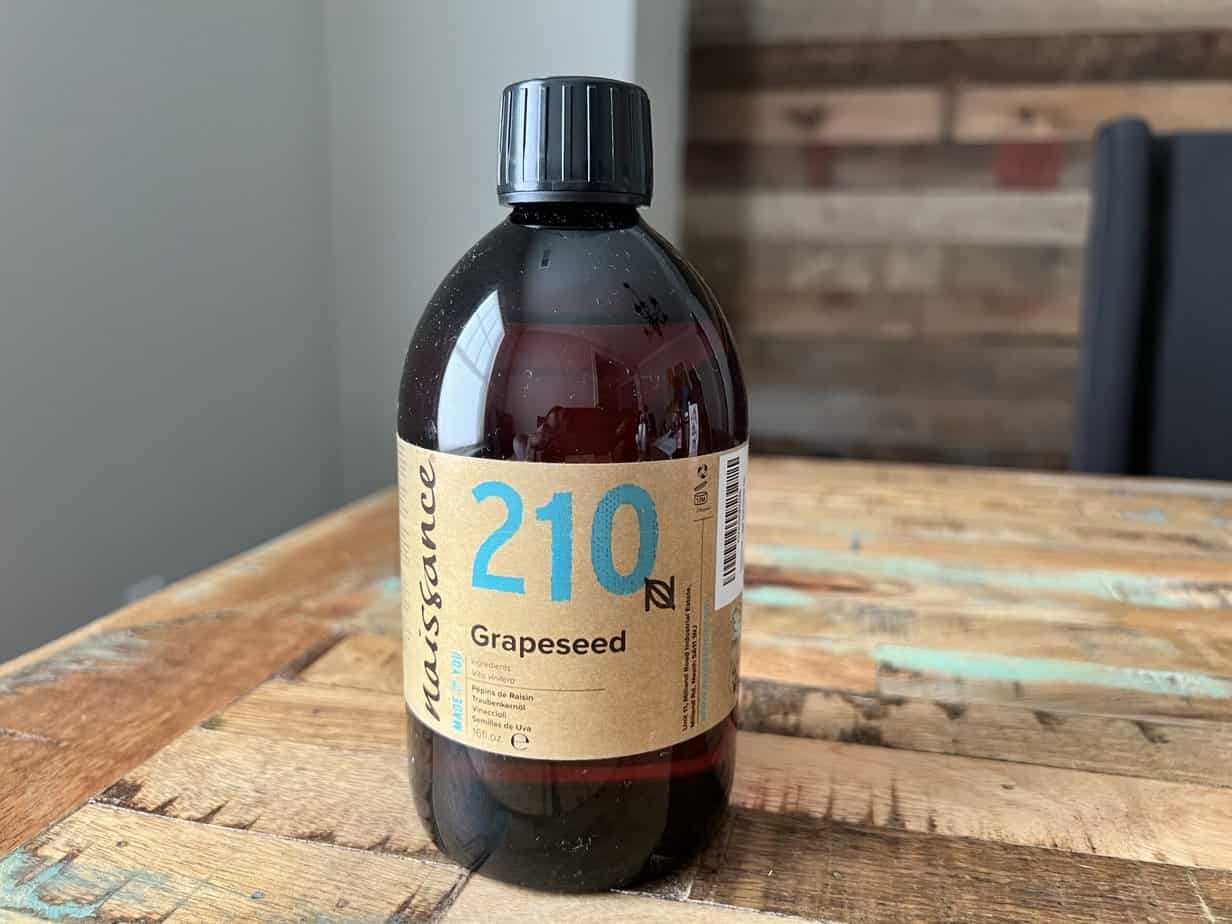 In addition to its hair smoothing and sealing abilities, it also acts as a sunscreen for your hair. Though it won't provide 100% protection from UVA and UVB rays, it will ensure that your hair and scalp aren't taking them in at full power.
Furthermore, the oil can soothe an irritated scalp and reduce flakiness.
One of the best things about grapeseed oil is its lightweight nature. It also doesn't easily build up on the hair. Therefore, most people can use the oil regardless of their hair type.
If you have looser curls, straight hair, or fine strands, you can use this carrier oil without worrying whether it'll weigh your hair down or ruin your style. Still, if you have super coarse hair, you may find that you need a thicker oil to achieve the results we outlined above.
Olive Oil
Olive oil is one of the most commonly used carrier oils in general, and especially in the natural hair community. As you may have guessed, olive oil is derived from olives. It comes from the whole olive.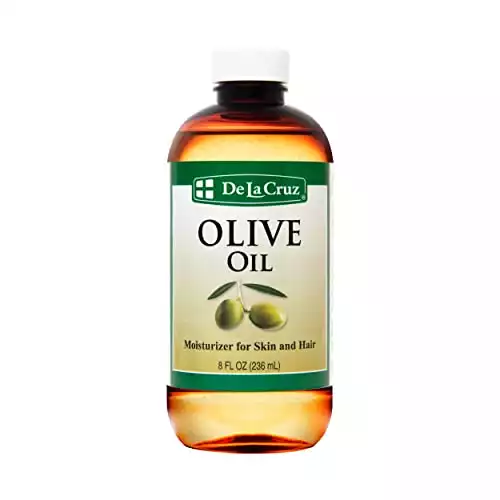 De La Cruz Pure Olive Oil Moisturizer for Skin and Hair
De La Cruz is 100% pure, and natural olive oil is expeller-pressed from the fruit of the Olea Europaea tree. It's also an excellent choice for moisturizing and conditioning dry, thick hair.
Curl Centric may receive compensation if you make a purchase using this link, at no additional cost to you.
The oil might look yellow or green, depending on the ripeness of the olives it came from. The oil has a shelf life of 1 to 2 years. Extra virgin olive oil lasts the longest out of all olive oil types.
Over time, olive oil has become a well-known hair miracle, praised for its ability to transform dry, damaged hair into supple, moisturized tresses. The main reason why it's so incredibly beneficial for problematic hair and scalps is that it's a penetrating oil.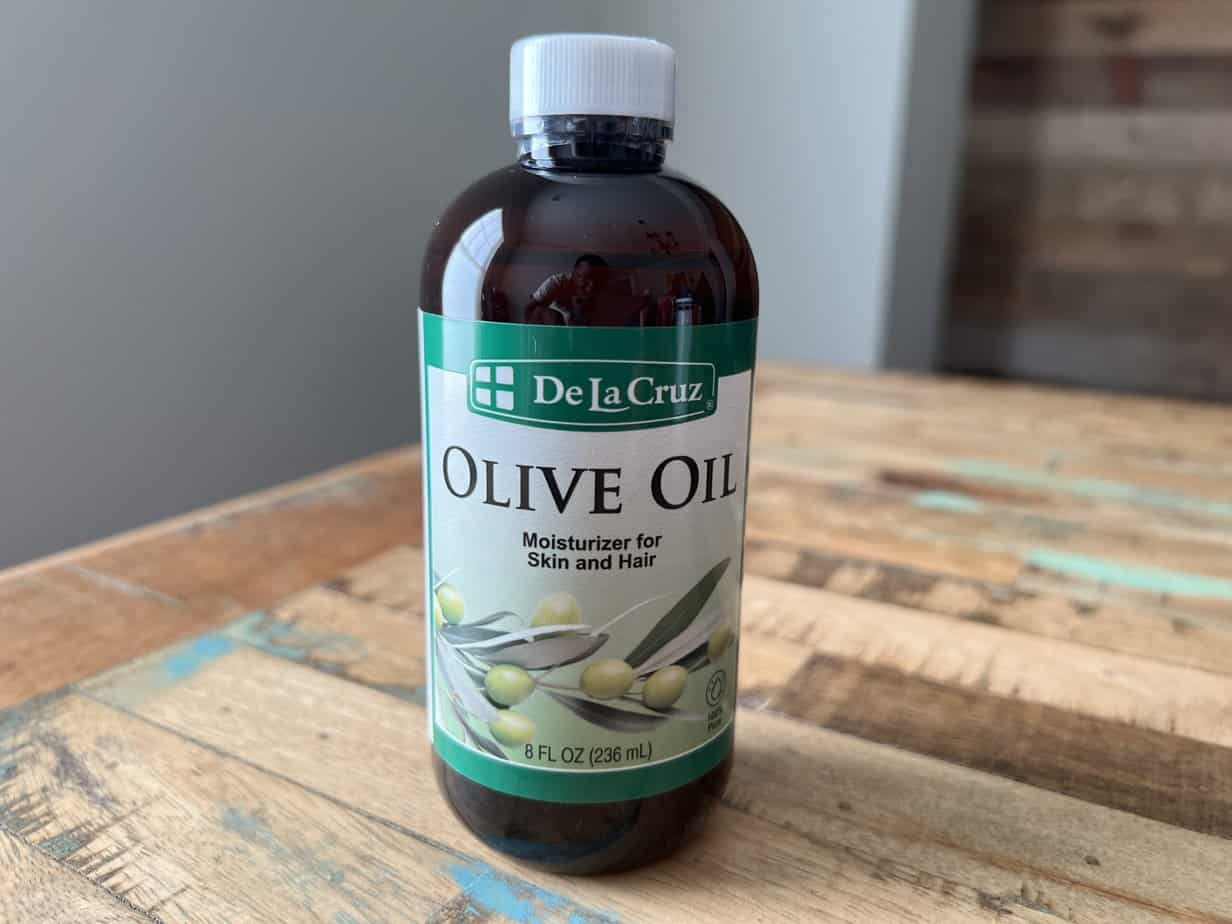 It doesn't just sit on top of the hair, it delivers moisture and nutrients to the inner layers of the hair shaft. But that's not all.
It smooths the outer hair cuticle, making the hair shinier and more manageable. With just one use of olive oil, you'll notice a tremendous difference in your hair's look and feel.
Olive oil's benefits aren't limited to hair, either. The carrier oil can soothe scalp irritation and protect the scalp from the external environment (sun rays, dryness, extreme temperatures, etc.).
Unlike some of the carrier oils referenced in this article, olive oil is not for everyone. In particular, the oil is not a good fit for those with thin or fine hair. The weightiness of the oil can cause hair flatness and heaviness.
And this applies even if the oil is applied only to the scalp – eventually, the oil may travel down the length of the hair.
Olive oil is a better fit for those with thick, coarse, or textured hair. Those with these hair types will enjoy the many benefits of the oil without experiencing hair heaviness or flatness.
Emu Oil
Here's a carrier oil you probably haven't heard of – emu oil. The oil is mainly used for dry skin and joint and muscle pain. But more and more people are adding it to their haircare routines. Emu oil comes from the fat of the emu – an Australian bird.
The oil isn't greasy or heavy, and it has a shelf life of 1 to 2 years.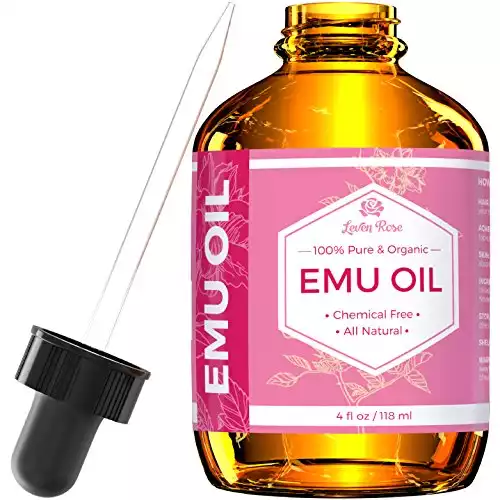 Leven Rose 100% Pure Emu Oil
This 100% pure and natural emu oil by Leven Rose is chemical-free, fast-absorbing, and all-natural.
Curl Centric may receive compensation if you make a purchase using this link, at no additional cost to you.
Emu oil has been shown to have a wide range of benefits. The oil is rich in omega-9 fatty acids and vitamins that support healthy hair growth. It works primarily under the scalp surface to fight inflammation, one of the top causes of hair loss and shedding.
With your hair follicles well-fed, your scalp has a greater chance of growing healthy hair. There are also components in the carrier oil that stimulate the follicles to grow new hair.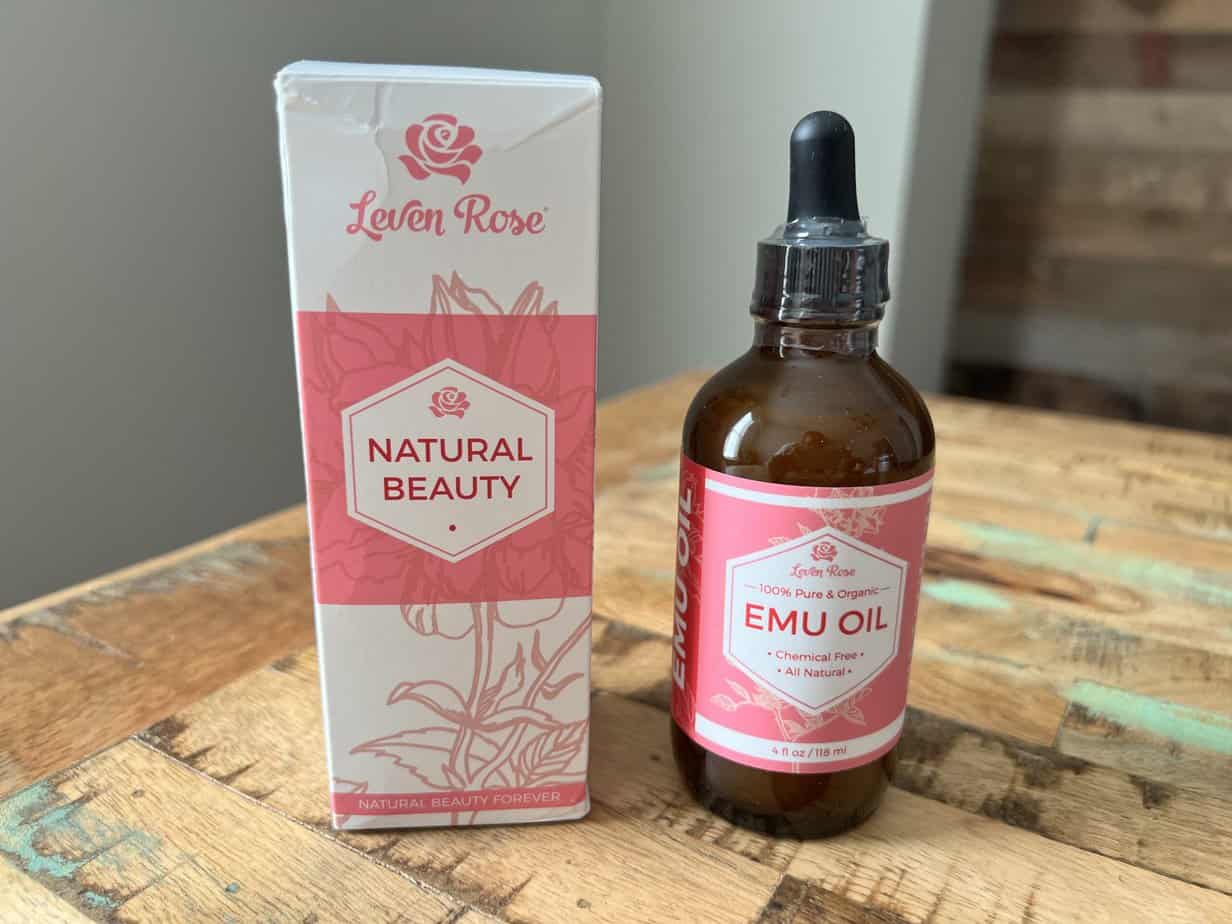 In addition to supporting scalp health and stimulating hair growth, emu oil is an excellent hair sealant. It can seal in moisture from other products to reduce moisture loss, giving you softer, more pliable, healthier hair.
If you want to know who this oil is for, the answer is everyone! Regardless of your hair type and porosity, you can use emu oil to protect your hair and nourish your scalp. The oil is incredibly lightweight, so there are no concerns about the oil weighing your hair down or making styling difficult.
So long as you use it as a sealing oil or a scalp treatment, you shouldn't have any issues. Still, since this carrier oil isn't very widely used, it's a good idea to keep a close watch over your hair and scalp after trying it.
Though the oil isn't problematic for everyone, it's better to be safe than sorry. If you notice any scalp or hair issues after using the oil, stop using it immediately and consult a professional.
Avocado Oil
Last but not least, we have avocado oil. It's an edible oil that comes from avocado pulp. Though the oil is regularly used for searing, sautéing, or otherwise cooking up delicious food, its hair benefits are nothing to sneeze at.
This carrier oil has a yellow hue and can last up to 2 years in an unopened container.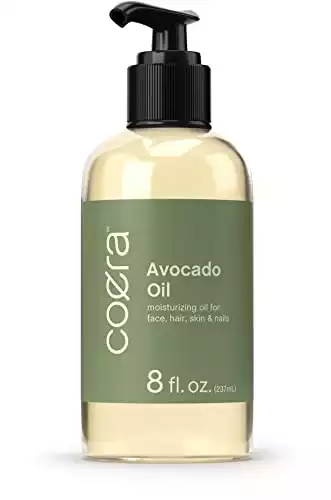 Avocado Oil for Face, Hair, and Skin
You can moisturize and nourish your hair with Coera's 100% natural, non-GMO, and gluten-free avocado oil.
Curl Centric may receive compensation if you make a purchase using this link, at no additional cost to you.
Avocado oil could just be your hair savior. Let's discuss the many benefits of the oil. Many people use avocado oil to protect their hair from external damage (sun, wind, extreme temperatures).
When the oil coats your hair, it forms a barrier against these influences. Though the oil is protective, it also moisturizes the hair by penetrating the hair shaft. In addition, the oil can make it easier to detangle your hair.
The oil has a slipperiness that makes your hairs glide past each other easier.
Additionally, this carrier oil can reduce damage in compromised hair. When you apply the oil, it increases the hair's elasticity, enabling it to stretch further than usual before breaking.
As a result, your hair won't break as often while caring for or styling it. On the scalp, avocado oil works as a source of nourishment.
The oil works underneath the scalp to moisturize it and protect it from moisture loss. Dandruff, an ongoing struggle for many people, can be improved by this oil as well. It also helps to make the signs of dandruff less noticeable.
Avocado oil is for all hair types, from thin to thick and fine to coarse. It can also benefit you regardless of your hair's porosity. So, if you want to try it, we urge you to do so. It could be the carrier oil you need in your life.
How to Use Carrier Oils in Your Hair Care Regimen
Now that you know more about carrier oils, it's time to learn how to use them in your hair care regimen. There are many ways to get the benefits of carrier oils, and we'll outline them here:
Oil your scalp. To give your scalp a dose of moisture and protection, all you'll need to do is apply the oil directly to your scalp with your fingers. Part your hair strategically in several areas to ensure even distribution of the oil. Once your scalp is coated, you can proceed with the rest of your hair care and styling routine.
Massage the oil into your scalp. If you want to deliver all of the moisture, nutrients, and other goodness straight to your scalp, an oil massage is an effective route to take. To massage your scalp with oil, you'll apply the carrier oil of your choice to your freshly cleansed scalp. You may need to part your hair in a few sections to get even coverage. Once you're done with the initial application, you'll go back and massage your scalp in small circular motions. Be careful not to scratch your scalp with your nails. It shouldn't take longer than 5 minutes to massage your entire scalp.
Apply the oil to your hair. To access an oil's topical benefits, you can apply it directly to your hair. To do this, dispense some oil into your palms, rub them together, and then smooth the oil through your hair.
Mix the carrier oil with the essential oil. If you want to use essential oils in your haircare regimen, you'll mix them with your essential oil using the following steps:

Dispense one tablespoon of your chosen carrier oil into a small container.
Add up to 3 drops of essential oil to the carrier oil and mix. You can increase the above recipe as needed for larger batches.
Use the oil however you'd like – apply it directly to your hair, smooth it over your scalp, or massage it in.

We advise you not to use more essential oil than recommended. Using too much can result in skin reactions, eye issues, and more. And if you'd like, you can test the mixture on a small skin area before using it more widely. Store your oil mixture in a cool, dark place.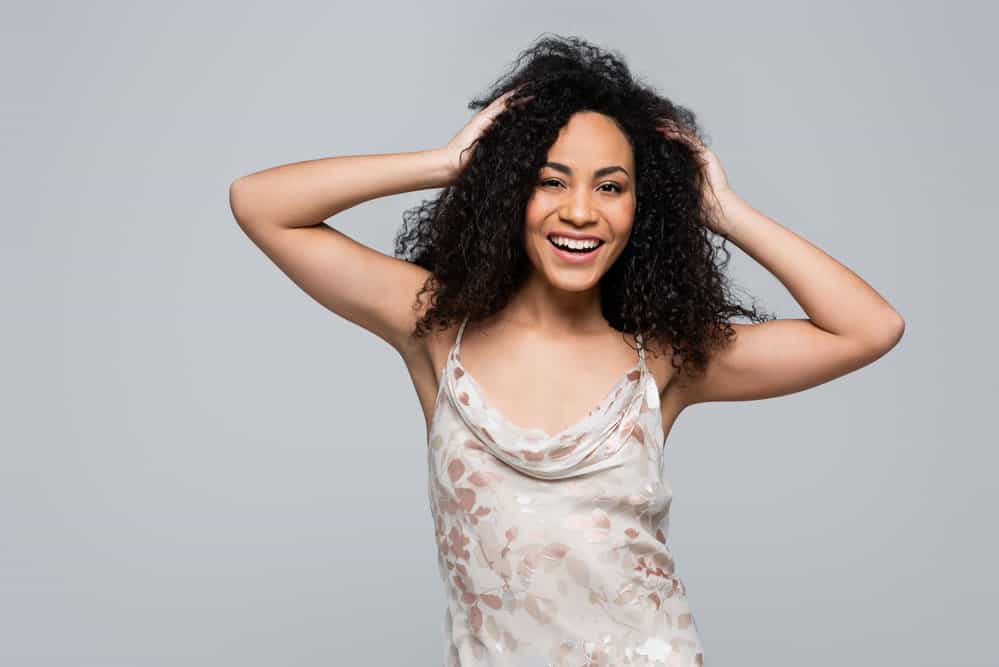 What Are Examples of Carrier Oils?
Examples of carrier oils are coconut oil and avocado oil, which are derived from plant seeds, kernels, or nuts. These carrier oils are commonly used in hair care and skincare routines due to their moisturizing properties. Additional examples, such as sweet almond and grape seed oil, are popular choices for skin care and are often used as massage oils. They are lightweight, easily absorbed, and provide nourishment and hydration to the skin.
What Is Considered a Carrier Oil?
A carrier oil is a plant-based oil derived from seeds, kernels, or nuts, often obtained through cold pressing. Carrier oils are primarily used to dilute concentrated essential oils, making them safer for skin application and preventing irritation or reactions. Carrier oils have their own unique properties, such as moisturizing and nourishing abilities, which can complement the benefits of essential oils. Examples of carrier oils include coconut oil, almond oil, jojoba oil, and avocado oil.
What Is the Best Carrier Oil for Essential Oils?
The best carrier oil for essential oils mainly depends on the individual's specific needs and preferences. Some carrier oils are better suited for specific skin types or hair conditions, so it's essential to consider factors such as skin sensitivity, desired effects, and aroma compatibility. For example, jojoba oil is an excellent choice for those with oily or acne-prone skin, as it closely resembles the skin's natural sebum and can help regulate oil production.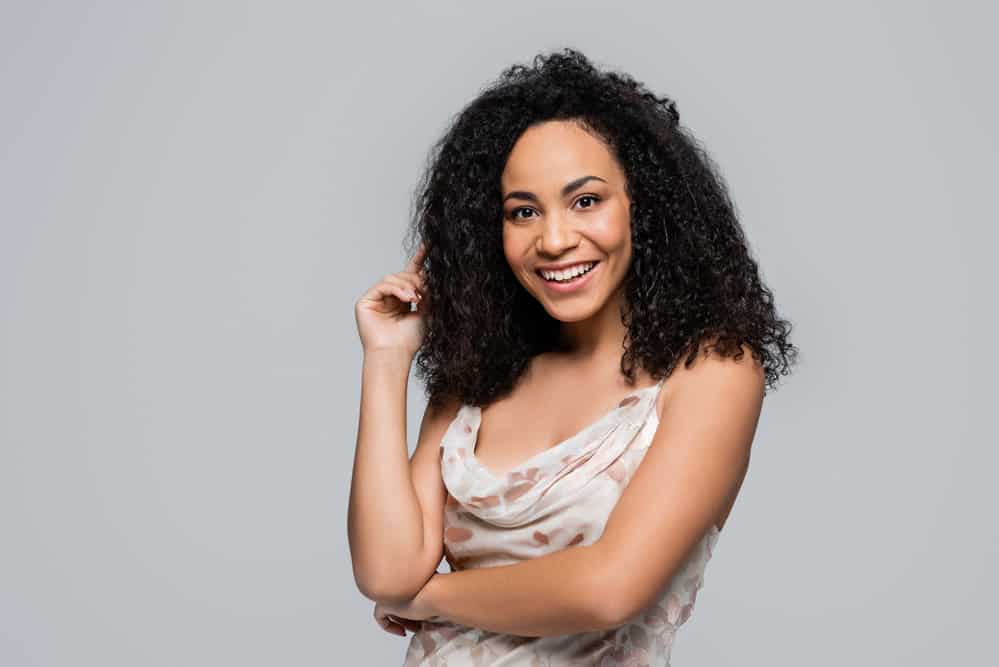 What Is the Best Carrier Oil for Skin?
The best carrier oil for the skin depends on the individual's skin type and specific concerns. For example, if someone has dry, flaky scalp skin, they might benefit from using avocado oil, which is rich in fatty acids and vitamins that deeply moisturize and nourish the scalp's skin. On the other hand, someone with oily, acne-prone skin may prefer using jojoba oil, which closely resembles the skin's natural sebum and helps balance oil production.
What Is the Ratio of Carrier Oil to Essential Oil?
The proper ratio of carrier oil to essential oil depends on the application and the individual's skin sensitivity. As a starting point, consider using a 2% dilution for general adult use, which involves mixing 12 drops of essential oil with 1 ounce (30 ml) of carrier oil. If using the blend for children, elderly individuals, or those with sensitive skin, a 1% dilution (6 drops of essential oil per ounce of carrier oil) is typically safer. It's essential to adjust the dilution as needed, considering factors such as the essential oil's potency and the user's preferences.
Is Olive Oil a Carrier Oil?
Olive oil is a carrier oil, as it is a plant-based oil extracted from the fruit of the olive tree, indigenous to the Mediterranean region. Rich in nutrients, antioxidants, and monounsaturated fats, it serves as a versatile and nourishing base for essential oils. Olive oil is widely used in skincare, haircare, and massage oil applications due to its ability to blend well with essential oils and provide numerous benefits to the skin and hair.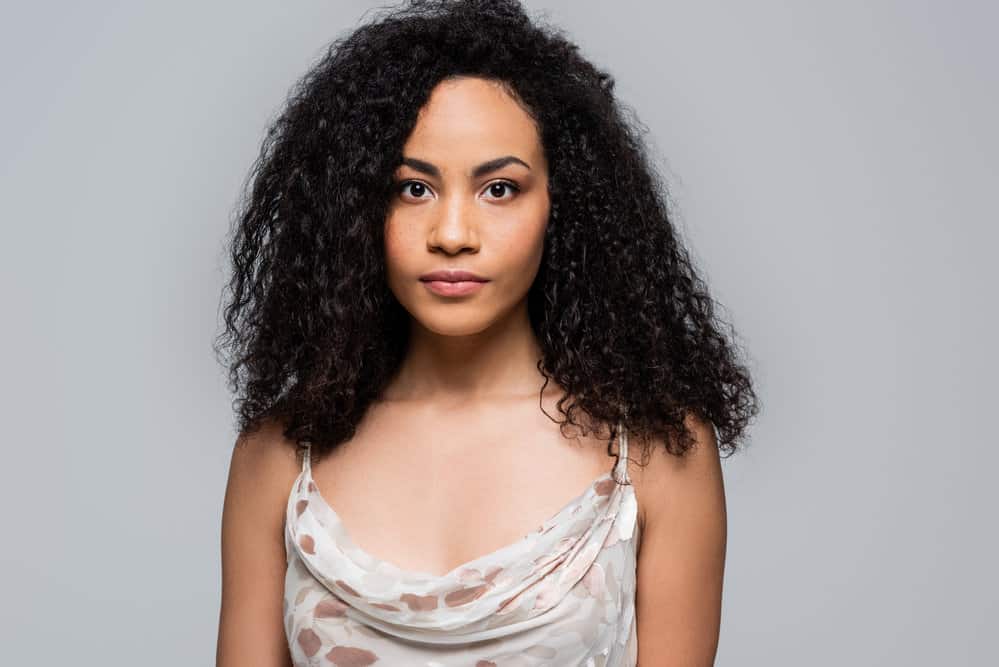 Is Argan Oil a Carrier Oil?
Argan oil is a carrier oil, as it is a plant-based oil extracted from the kernels of the argan tree, indigenous to Morocco. Rich in nutrients, antioxidants, and fatty acids, it serves as a versatile and nourishing base for essential oils. Argan oil is widely used in skincare, haircare, and massage oil applications due to its ability to blend well with essential oils and provide numerous benefits to the skin and hair.
Is Coconut Oil a Carrier Oil?
Coconut oil is a carrier oil sourced from the flesh of coconuts and packed with beneficial properties. Its high content of medium-chain fatty acids, antioxidants, and vitamins makes it an ideal base for mixing with essential oils in various applications such as massage oils, hair treatments, or skincare products. Coconut oil's versatility and compatibility with a wide range of essential oils make it a popular choice among those seeking to create their own blends.
Is Baby Oil a Carrier Oil?
Baby oil is not classified as a carrier oil, as it is made from petroleum-based mineral oil instead of vegetable oil derived from plant sources. Carrier oils, such as jojoba oil or sweet almond oil, are typically sourced from the seeds, nuts, or kernels of plants and have beneficial properties and nutrients that mineral oil lacks. As a result, baby oil is not recommended for use as a carrier oil in blending essential oils or for skin applications.
What Carrier Oils Stimulate Hair Growth?
Castor oil is a carrier oil known to stimulate hair growth due to its high ricinoleic acid content, which is believed to help increase blood circulation to the scalp. This increased circulation helps promote hair follicle health and contributes to hair growth. Additionally, castor oil's natural antimicrobial and antifungal properties can help maintain a healthy scalp, essential for optimal hair growth.
Coconut oil is a carrier oil that can promote hair growth because of its ability to penetrate the hair shaft and nourish your hair strands from within. The lauric acid in coconut oil strengthens your hair, preventing breakage and reducing hair loss. As a result, consistent use of coconut oil in your hair care routine can help to create a healthy environment for hair growth.
Jojoba oil is a carrier oil that encourages hair growth because it closely mimics the natural oil produced by the scalp, known as sebum. This similarity allows jojoba oil to effectively moisturize the scalp and hair, promoting a healthy environment for hair growth. Additionally, jojoba oil is known to help balance the scalp's oil production, which can be particularly beneficial for those with an oily scalp or dandruff.
Rosemary oil is a carrier oil that is believed to stimulate hair growth, as it has been shown to improve cellular generation and increase blood circulation to the scalp. This increased blood flow can help nourish the hair follicles and create a healthy environment for growth. Furthermore, rosemary oil possesses natural antifungal and antibacterial properties that help maintain a clean and healthy scalp.
Argan oil is a carrier oil that can contribute to hair growth because it's rich in vitamin E, essential fatty acids, and antioxidants. These nutrients promote a healthy environment for hair growth. Additionally, argan oil is known to help repair damaged hair and prevent breakage, which can contribute to longer healthier hair.
Related Articles
Carrier oils are crucial in hair care regimens by providing essential nutrients and moisture to the scalp and hair. These versatile oils can be used in various ways, including oiling the scalp, massaging the oil into the scalp, applying it directly to the hair, or mixing it with essential oils.
When using carrier oils with essential oils, following proper dilution guidelines for safe and effective use is vital. Some carrier oils are also a key part of aromatherapy treatments.
Some popular examples of carrier oils include coconut, avocado, argan, olive, and rosehip oil. Each oil offers unique benefits, and the best carrier oil for an individual depends on their specific hair type, skin type, and desired results. It is essential to avoid using unsuitable substances like butter, margarine, shortening, or petroleum products as carrier oils.
The frequency of applying carrier oils to the hair depends on factors such as hair type, condition, and individual needs.
Regular use of carrier oils can help promote hair growth, improve overall hair health, and address specific hair concerns such as dryness or excess oiliness. By understanding the different carrier oils and their benefits, you can choose the most suitable oil for your hair care needs and incorporate it into your regimen for optimal results.
So, there you have it – everything you need to know about carrier oils, how to use them with and without essential oils, and more. We hope you found all the information you needed in this article, and we wish you the best with your hair!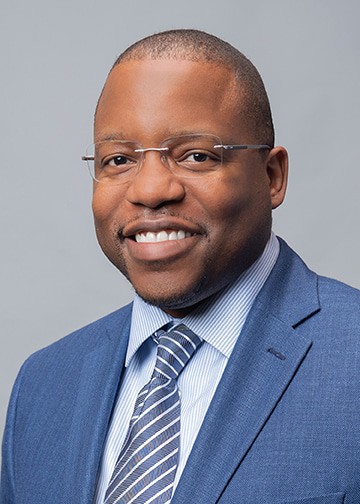 Kenneth Byrd holds a BS in Accounting and Management Information Systems and an MBA from the University of Alabama at Birmingham. With over 15 years of experience, Kenneth has been dedicated to hair care since 2008, when he co-founded Curl Centric® and Natural Hair Box alongside his wife. As a team, they promote healthy hair care practices through their comprehensive platform, Curl Centric. Curl Centric is a website operated by a husband and wife team that encourages healthy hair care. At Curl Centric, we aim to help our readers take control of their hair care journey and make good decisions about products, hairstyles, and maintenance techniques. We also have strict editorial integrity; here's an explanation of our editorial guidelines and how we make money.